Accomodation at B&B Foresthill – Khao Yai
Foresthill, the cabins and the garden
We have two types of cabins. The-biggest (the elephant cabana) 58 m2 consists of a master bedroom with standard king-size bed ,built in closet and special a spacious bathroom. To get there you pass the seating area (which at night can be transformed to a second bedroom) equipped with two comfortable sofa beds. It has also a small kitchenette with a normal table height fridge a tv furniture, an eating corner and vanity table.
The smaller (tiger cabana) has a bathroom, a bedroom and one sofa bed, big fridge, tv furniture and vanity table. A built-in closet is there to store your luggage. This type of room has no kitchenette but the interior is as qualitative and durable as the one in the elephant rooms.
All cabins have hairdryer, water-cookers, airco, cold and heated water. At request a Bluetooth speaker can be installed..
Each cabana has a covered front terrace and by mounting the stairs access to an equipped large and covered roof terrace on top to look at khao yai which embraces our place from north-east to north and south East . A nice place to observe the sunrise and sunset too.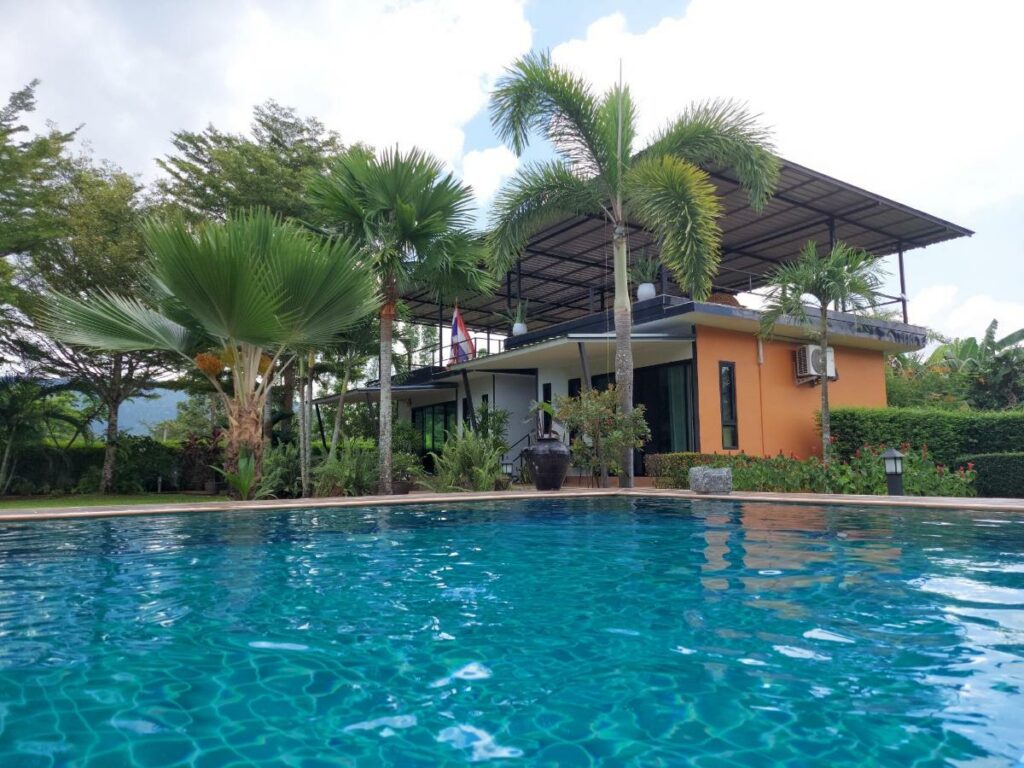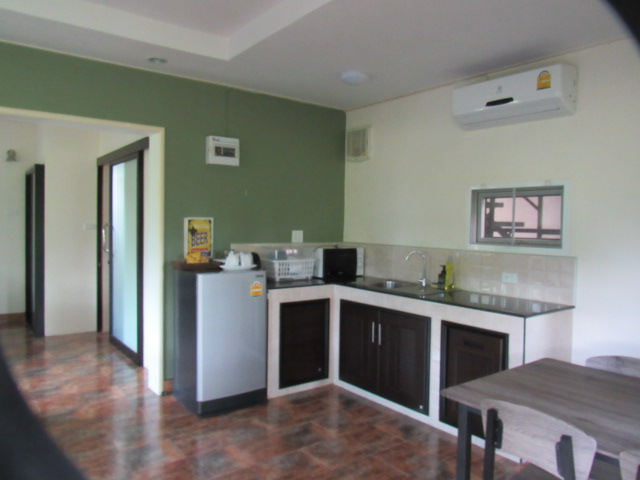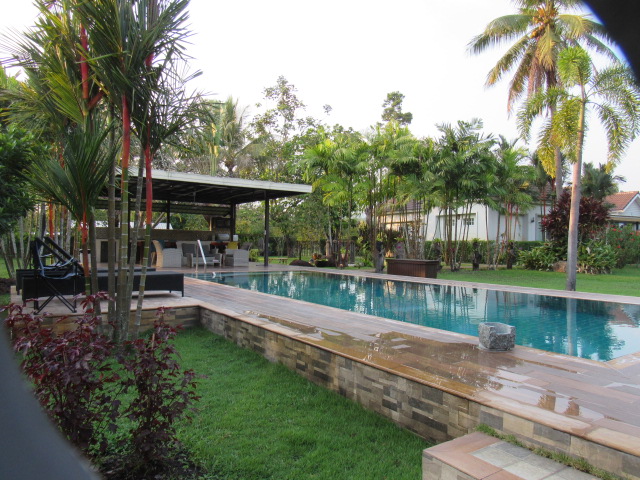 The pool area is the center of the garden.
The pool annex sunbathing area, pool, breakfast area and our outside kitchen including BBQ possibilities are at a few steps from the cabines. Breakfast is served here. The spacious garden has a big lawn, just interrupted by some tree islands to make it more vivid. The entry road leads to the main building and offers a secured parking for guests. Two walking paths leading around the lawn and different sections and garden rooms. A silent garden room, the deep shade terrace, the orchid lane, the 'fairytale' alley , the tree garden, the palm garden , fern garden. Each piece is packed with special tropical plants.
The personal check-in. Once the guest are installed in their cabins, they are Invited on a free base, for a more extensive, information session. We start with sharing more practical information like breakfast (time, special preferences…), lunch possibilities and good dining restaurants, local shops and markets, and entertainment, transportation etc.…
The most important part is however to get insight in expectations and capabilities of the guests concerning their stay at our place. Besides some basic rules of living safely in a jungle we want to know what their interests are. Is it a night safari, is it bird watching, admiring the varied flora of the park, the best time for spotting wildlife (we know where groups of animals gather). Or a hike in the jungle ( it's not really a walk in the park). For certain activities a guide ranger is obliged for others not. Based on our experience and a good insight in the guests expectation we can propose a tailor made proposition program for the guests. Experience learns us that this check-in moment is appreciated by most of them.