The Southern entrance gate of Khao Yai National Park is situated just 800 meters from Forest Hill . The park covers 2,158 sq km. (the Belgian province of Antwerp covers 2,876 sq km.)
Khao Yai means large mountain. The highest peak is Khao Rom which is 1,351 metres high. The park is dotted with spectacular waterfalls.
Its tropical vegetation has trees rising up easily to 45-50 metres (teak and rubber trees), mixed with medium-sized trees, thick undergrowth, lianas, ferns, epiphytes, orchids. It is a feast for all of your senses, even for those who don't know the difference between a cactus and a rose.
The place is inhabited by a range of stunning fauna, too. Yes, there are some unpleasant habitants like leaches, scorpions and spiders, but also more friendly ones like fireflies and 2,500 species of butterflies, 10,000 species of moths including the world's largest, the Atlas moth (25 cm) There are also (Flying) skinks and geckos (including the 50 cm Tokay Gecko).
Snakes will try to keep out of your sight but are mostly venomous. Best known are the cobras the non-spitting types. Also beware of the small green vipers! Pythons impress by their length (weighing over 100 kg).
It's a paradise for birds (320 species). These include eagles and the well-known hornbill but also very colourful smaller, exotic, species.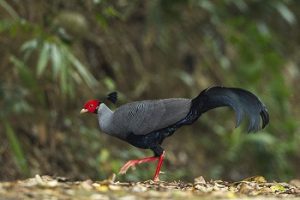 There are lots of (night) mammals like the Lori, porcupine, squirrels, bats (millions of them live in the caves). Larger animals will cross your path. Deer are common, as are fishing cats. Clouded leopard, black panther are possible sightings but are extremely unlikely. More dangerous and frequent are the Malayan sun bear and the Asian black bear – Just make a run for it because they are fast and good climbers.
The pig tailed Macaque is common and you will meet them along the roadside. Species of Gibbon monkey are also around, but high in the tree tops.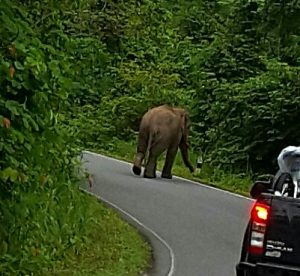 King of them all is the Asian elephant of which 150 to 200 animals walk about the park freely. You might see them crossing the road in the early morning or in 'cold season' warming up in the evening. Just stay calm, make no noise. If they charge, run for it (they are heavy).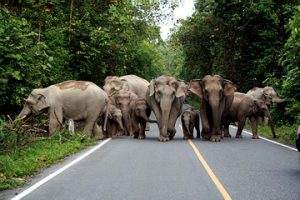 Among the staff of Forest Hill is a former Parc ranger who knows his way around, including when and where animal activity is to be seen.
A popularway to visit the Parc is by bike (Bikes can be hired). You need to be in a good physical condition if you want to try this because the road is good but very steep. You might end up focusing on your heartbeat instead of enjoying the environment. Very fit people do ride up and down by bike. If you are less fit, you can be brought to the visitors centre and ride downhill (watch out, its steep on the way down)
Other activities in and around Khao Yai National Park are:
Night safaris, bird watching at the observatory towers, short and long jungle trekking's and wild water rafting.
This video gives a good impression